Visit to Berkshire Humane Society
For over 30 years, family-owned VaporLux® has been a leader in vapor cleaning technology. Our high quality, prices & warranty can't be beat!
The eco-friendly sanitizing and cleaning might of vapor grows in popularity as users love all the benefits.

Start using high powered vapor and:
- say goodbye to costly chemical cleansers
- clean hard-to-reach areas with ease
- avoid mold problems as vapor dries in minutes
- eliminate odors, even cigar and cigarette smoke and animal odors
- sanitize and restore surfaces

This powerful vapor sanitizes 99.9%, cleans grout like nobody's business, and restores surfaces. All models manufactured in Italy, to our strict specifications.

We offer excellent, caring customer service. And we have the highest quality manufacture and customer care available.

Please visit our Rentals section, and experience first-hand the power of Vaporlux. Listings are alphabetical, state by state.

VaporLux® was founded in 1989 to provide vapor cleaning equipment for the North American commercial market. We developed the technology which brings you here, and led the movement to vapor cleaning. The powerful 5000Pro and the Triple Play are 304 stainless steel and, like all of our machines,  perfected over decades of testing and design for optimum ease of use and durability. And being service-oriented, we have 100% parts, 100% of the time, and have trained technicians to perform warranty repairs at our Roseville, MI facility. 
We led the way and are committed to vapor technology as the best cleaning solution (It's just H2O!) for your business, office or home.
We've improved and re-engineered our commercial line ever since, continuing to innovate in the field of vapor technology. VaporLux® is able to provide full product liability insurance for our products. Our customers can have confidence that our products are as safe as possible, so their investment is protected.
Because of our superior engineering and product development, our machines are in use throughout the US, Canada, Mexico, the Caribbean, New Zealand and Australia.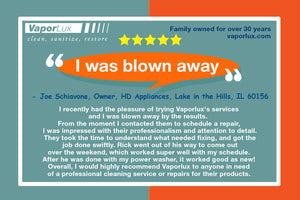 Customer Testimonial
Our customers are loyal to us, as we are to them.

We are most grateful, and thank you, Joe Schiavone!